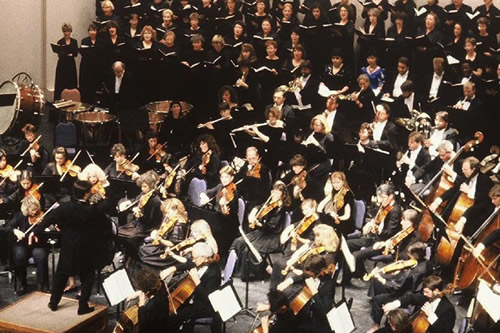 America's Best Symphony Orchestra


Among other accolades over the years,
San Francisco Chronicle music critic Joshua Kosman
has noted that "under music director Barry Jekowsky, the California Symphony now ranks among the Bay Area's most reliable musical organizations, treating its subscribers time and again to well-planned and brilliantly executed programs."
San Francisco Examiner
critic Allan Ulrich
observed: "Time was (and not so long ago) when regional orchestras desperate for acceptance in the community aimed so low you could trip over the programming in a sunlit room. Not so at the California Symphony, where
founding music director Barry Jekowsky is winding up the orchestra's season with such intelligent repertoire and committed music-making that other organizations of similar size should be required to take note."
And
San Jose Mercury News critic Paul Hertelendy
announced:
"Orchestra of the Year - The California Symphony has emerged as a significant force in the Northern California music world."

Based in the San Francisco Bay Area, the California Symphony was founded in 1986 by Barry Jekowsky. The Juilliard-educated principal timpanist for the San Francisco Symphony had just made his international debut as Guest Conductor of the London Philharmonic, and won a prestigious Leopold Stokowski Conducting Prize the year before.

Shaped by Jekowsky's passion and vision, this trailblazing orchestra has consistently dazzled audiences and critics for its…

Innovative Programming – from the world premiere of the first live symphonic concert in 3-D to the West Coast premiere of the Dead Symphony, performed to a packed hall of Grateful Dead fans. Read more
Commissions of 28 new American compositions to date. As recently noted by San Francisco Classical Voice: "Barry Jekowsky's California Symphony is celebrating its 20th anniversary with four pairs of concerts that include five premieres and nine works by American composers—a proportion no large American orchestra (and precious few regional ones) approximates. The San Francisco Symphony, for example, features six American compositions in its entire next season."
Young American Composer in Residence Program.
The world's only program that nurtures the development of new American classical works through three-year residencies for emerging composers to hone their craft using a professional orchestra as their laboratory.
Read more

Inclusion of at least one American composition on every concert program for the last 23 seasons. In recognition, Jekowsky and the orchestra received the distinguished 2002 ASCAP Award for "Adventurous Programming of Contemporary Music," as well as a special citation by BMI Foundation President Ralph Jackson for their "passionate commitment to young American composers."

Commitment to presenting extraordinarily-gifted young musicians in their professional concert debuts – including violinists Sarah Chang (first of three appearances, in 1991 at age 9), Kyoko Takezawa (presented in 1987 at the age of 16), Leila Josefowicz (in 1990 at age 12), pianists Helen Huang (in 1993 at age 10), Joyce Yang (in 1999 at 13), and cellist Alisa Weilerstein (in 1996 at 14). Read more

Preservation of the music of Lou Harrison with a critically-acclaimed CD, featuring Al Jarreau (DECCA/ARGO). Read more
Photos Dirk Wentling